PROJECT ︎︎︎ Pattan

TYPE ︎︎︎ Packaging, Branding

DURATION ︎︎︎ Jan - Feb 2022

TOOLS ︎︎︎ OnShape, UltiMaker, Adobe Illustrator, Trotek Laser Cutter
Pattan is a beautiful and practical DIY macrame coaster kit designed with its entire lifespan in mind.
Project Overview ︎︎︎

Free from single use papers and plastics, it instead utilizes a 3D-printed tray for its interior that functions as a holder for the coasters once they have been completed. This sturdy inner element protects the materials inside while also serving as the sculptural shape of the packaging.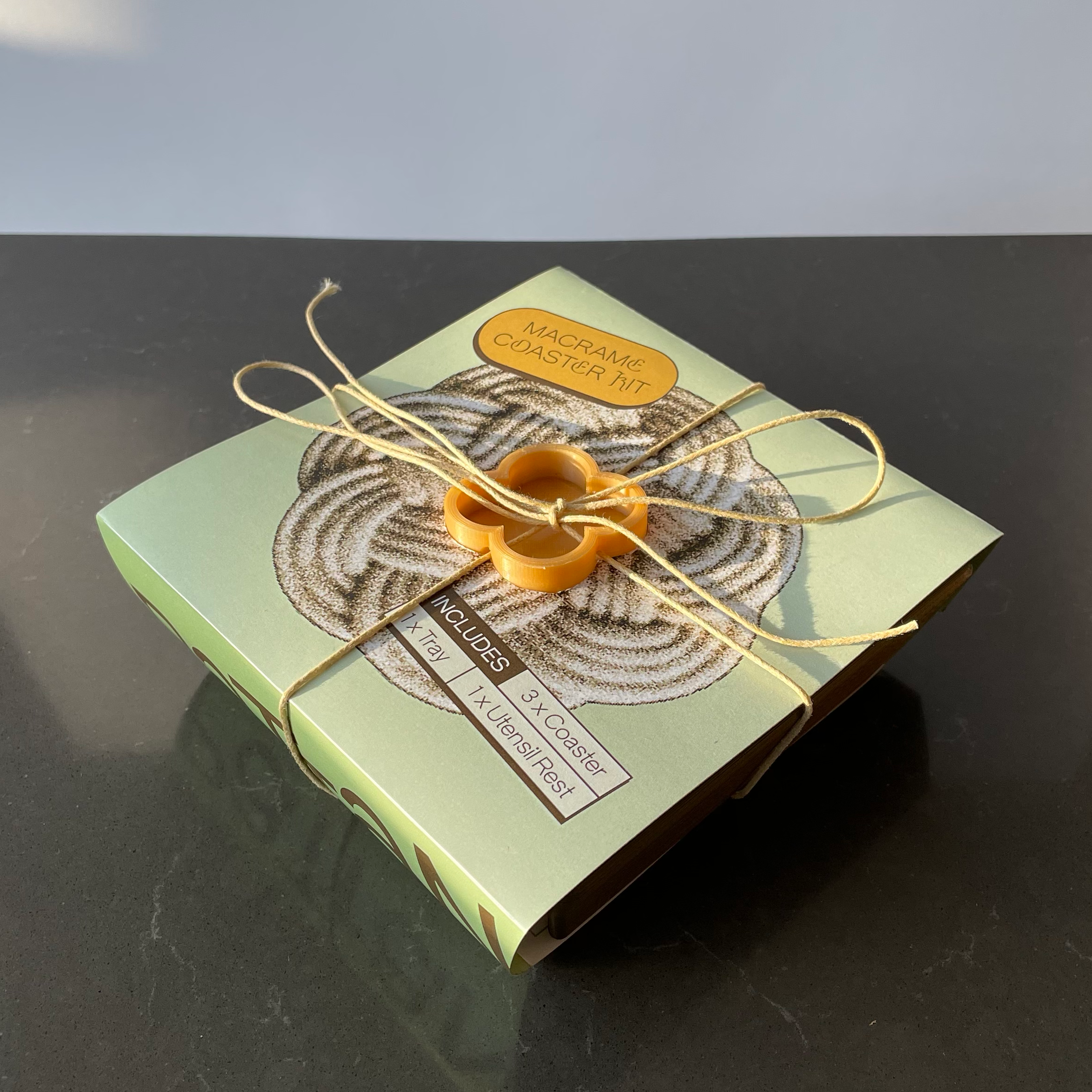 100% creative agency, with 0% of your typical packaging waste

Sculptural yet practical, Pattan's design proves that the pursuit of utility doesn't always mean sacrificing aesthetics.


As a maker of things and an amateur knitter, I'm often dismayed at the amount of packaging waste that is produced at the start of a new project, so I set out with the goal of developing a packaging product where every element is considered, and every feature has a second life.

The kit's belly band features eye-catching colour combinations and graphics on the outside, with instructions and a pattern for completing 3 turk's head knot coasters printed on the inside, saving both space and material. The belly band is made of a durable but thin card stock, which means that users can even flatten and store it for later use in making more coasters. Tying the packaging together on top is a utensil rest which uses strategic holes placed in its sides to allow for string to tie snugly around the package, ensuring the contents remain inside while in transit. Pattan's attractive design makes for an excellent housewarming gift, or a treat for any craft-lover looking for a waste-free way to spruce up their home.